14 Dec
Hello Mel Runs readers!  I'm Mike and I took Mel's Push Up Challenge put forth on Thanksgiving.  She asked me to share what I learned and experienced while taking the challenge.  So I actually started two days late, but felt motivated by all the other participants who were already on Day 3 and pumping out 4 push ups.  Right then and there I dropped to do my 1 push up.  It felt good, though a bit unsatisfying. Just one?  Well I exercised my patience (which is woefully out of shape) and went about my day.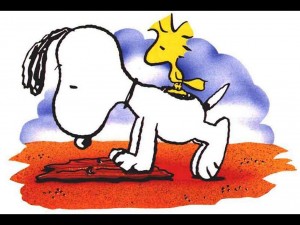 Day 2 came around and I needed a reminder before getting down to do my two push ups.  I finally realized on Day 3, after my four push ups, that I needed an end-game.  Without a stopping point we'd be looking at over 32,000 push ups in one day before the next episode of Top Chef: Texas.  Living in Austin, my goal was obvious: 512  (For the non-Austinites, 512 is the area code here.)  That would mean on Day 10, I'd need to do 512 push ups.  It's funny, when you think about something like that, 512 is just a number.  Who knows if they can do 100 push ups?  200?  1000?  What's my ceiling?
I had been following the other challenge-takers on Twitter via retweets.  Seeing others persevere is what kept me motivated day in and day out.  Day 8 (128 push ups) was the first day that required planning.  On all previous days I could knock them out in a single set, up to 32 at a time.  But for 128 I needed to space them out over the course of the day, doing 25 at a time.  It didn't prove too tough overall, but was always present in my mind.
At last the big day was getting close.  I fell into a bit of a trap with Day 9 to do 256 though.  I was so focused on my big 512 that I got complacent and left about 150 push ups to be done after dinner on Day 9.  It wasn't pretty, but I cranked eeked them out.  Due to some travel, I postponed my big 512 by a day until I got home.  I actually wrote out a game plan that I tried to follow to get me to my goal.  100 before work, at least 200 at work, and then 200 at home.
I left the house with 112 finished.  Throughout the day I awkwardly stepped into empty conference rooms for about a minute and pumped out 25 push ups at a time.  Unfortunately I only got up to 275 total by the time I headed home.  I found that recovery from each set was taking longer and longer, but while watching TV I'd do two sets of 25 during commercials.  It may have taken until 11pm, and broken into sets of 10, but I finally got all 512 push ups done.
Thanks again to @MelRuns, @AustinFit, @ATXPierogiTruck, @Nicole_Johnson, and @MauroPilates for the support throughout the challenge, and everyone else who participated but wasn't on the Twitter stream.  No question, without the group holding me accountable, there would be no way I would have kept pushing.  To be honest, I've fallen back to my non-push up ways, which primarily focuses on running.  But during the challenge, it felt good to be doing something as part of a group.  I learned that I could do something above and beyond the norm, but it's just so easy not to.  With the challenge and the group, I was able to do bust through my lazy thoughts and did something pretty cool.  Thanks again!
–
You can check out Mike's blog, A Mike's Life, or follow him on twitter @MikeGalante, to tune into all of his running and eating adventures!